For instance, the children's book Little Wave and Old Swell: A Fable of Life and Its Passing is one we will talk about today that helps warm children up to New Age ideas.
Instead of telling our listeners to avoid this title or boycott the book (which I think is a lazy way to be discerning), we help listeners look for the subtle differences and nuances in what the author (and Christian Evangelical leaders!) promote that is polar opposite of what God says about His nature.
Here is what one of our guests (scheduled for this Friday), Marcia Montenegro, has to say about those nuances from her New Age background:
A FABLE FOR THE NEW AGE:
By Marcia Montenegro, Christian Answers for the New Age
Jim Ballard, an admirer of the Hindu guru Paramahansa Yogananda and other Eastern teachers, is the author of a small, illustrated book, Little Wave and Old Swell: A Fable Of Life and Its Passing. The Foreword is by Christian speaker and author Ken Blanchard.
Yogananda and Jesus
The inside back cover states, "Teachings of the world-renown author and yogi Paramahansa Yogananda inspired Jim to write this wave fable." The last page of the book has a brief homage to Yogananda, a Hindu guru who came to the United States in 1920, citing him as a "great Indian sage who often compared the span of a human life to the rising and falling of an ocean wave."
The last page also has a photograph of Yogananda (displayed on this page), which is very familiar to me. This is the same photo used for Yogananda's Autobiogr
aphy of a Yogi. I used to gaze upon it many times when reading Yogananda's book back in my New Age days. I eventually cut the photo out and pasted it into a picture frame, placing it on the bedroom mantelpiece where I spoke and prayed to the deceased Yogananda through this image.
The back cover lists endorsing comments from New Ager Deepak Chopra, Gary Wright (composer of "Dreamweaver"), and Christian speaker and author Ken Blanchard.
You can read the entire article here.
We also want to share an article from Lighthouse Trails Research on this topic, and I highly encourage you to get those free newsletters at their site:
Little Wave and Old Swell (A Course in Miracles for Children with a Foreword by Ken Blanchard)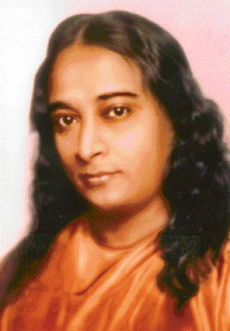 Little Wave and Old Swell (released by Beyond Words Publishing) is packaged as a children's picture book, one that moms and dads will sit and read to their young ones at bedtime. The story is woven within the pages of colorful abstract paintings of the ocean and the sky. It begins with a conversation between Little Wave and Old Swell:
"What is it, Old Swell?" Little Wave asked his teacher. Little Wave was gazing out at the place where the sky and sea meet. He had seen other things rising out there–clouds and ships and whales. But never had he seen anything like the long, dark line that lay across the horizon. Old Swell knew that Little Wave had never seen land and that he would not understand. So he answered like the sage he was, "That," said Old Swell, "is Destiny."
Related articles